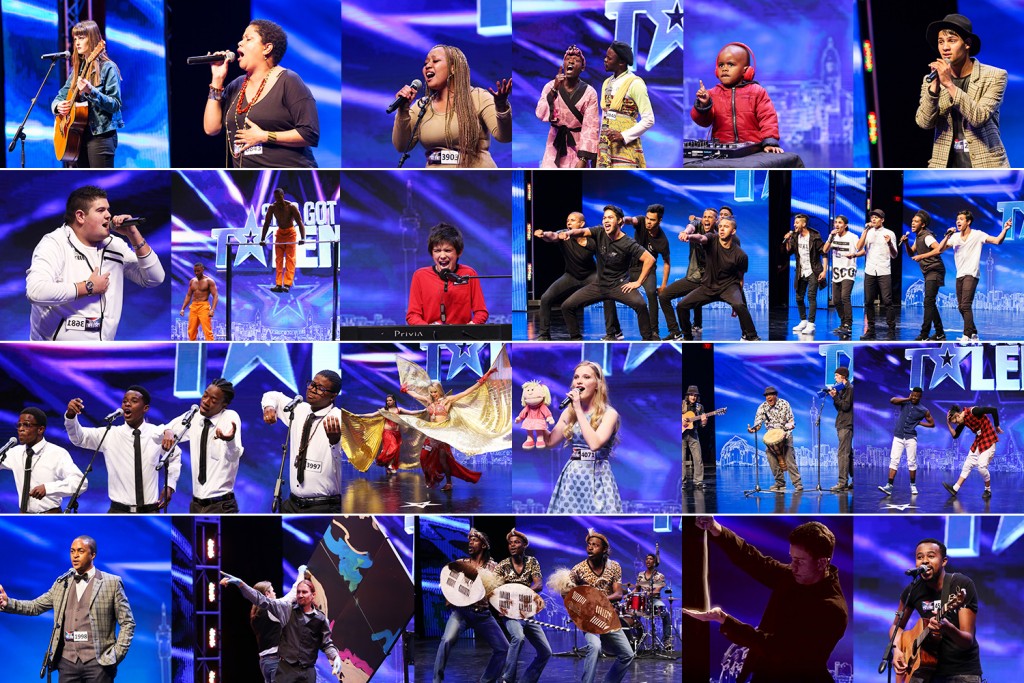 The theatre auditions are over and the 21 most talented contestants have been chosen by the judging trio Shado, Lalla and DJ Fresh. The unique and diverse group of semi-finalists is testament to the quality of acts that took part in the SA's Got Talent auditions this year.
The live semi-finals kick off this Sunday, 18 October, at 6PM on e.tv. Each semi-final will see seven acts take the stage to win the judges and public's vote in order to advance to the finale. One contestant will be decided by public SMS vote and another by judges' vote. Six contestants will then compete in the grand finale, which takes place on Sunday, 8 November at the Soweto Theatre in Johannesburg and will be broadcast LIVE at 6PM on e.tv.
3 acts have already been guaranteed a place in the semi-finals after they were given a Golden Buzzer during the auditions phase.
"This year's semi-finalists are dynamic. They each possess an undeniably powerful performance energy and determination to do everything within their power to secure a spot in the grand finale. The competition is going to be a lot more fierce, viewer should brace themselves for very exciting episodes ahead." Says the show's Executive Producer, Luxury Msiza.
The Top 21 semi-finalists boasts a variety of attention-grabbing performers, dancers, singers, comedians, acrobatics. The diverse acts showcased in this season is testament to the fact that SA's got talent is truly a vibrant variety show.
Viewers' votes will decide  who walks away with the half a million rand prize money and the title of SA's Got Talent champion.
The Top 21 semi-finalists who will be fighting for a spot in the finale are as follows:
Cordiel 
Singer. 23 years old. Worcestor, Western Cape.
Cordiel lost his mother when he was 9 years old and was eventually adopted at the age of 16. HIs talent comes from his mother who always sang. He started singing at the age of 13 in the church choir. He currently sings at weddings and small gigs, but his dream is to be bigger than Beyonce and Michael Jackson.
Henno William
Musician and vocalist. 12 years old. Johannesburg, Gauteng.
Henno's goal is to become South Africa's youngest professional singer-songwriter. His dream is to win a Grammy Award. His influences are artists such as Elton John because of theirnatural ability to play the piano and sing. He has wanted to enter SA's Got Talent since he was 6 years old, but his parents felt that he was too young at the time and needed to develop his talent. This time paid off as Henno was one of the three contestants that received a golden buzzer this season.
Joe And The Ganga Muffins
Musicians. 34 – 63 years old. Mitchell's Plain, Western Cape
The trio of musicians met in Greenmarket Square in Cape Town and formed their act. Over the last few years, they have made a name for themselves in the streets of Cape Town by performing constantly. The band considers themselves non-conformists and admit they don't fit the mould of a traditional artist. They are quirky and deliver an outstanding performance that is uniquely South African.
K-N9NE
Rapper. 20 years old. Klerksdorp, North West.
Born and raised in Klerksdorp, K-N9NE has become extremely popular with the locals in home town. Working as a wholesaler doing stock management, he dreams of breaking out into the music industry and entered the competition to do just that. He has already performed alongside big name artists such as Cassper Nyovest and KO but now dreams of becoming the headliner.
Wian The Magician
Magician. 22 years old. Frankfort, Free State
When Wian saw a magician on TV for the first time when he was young, he was blown away and started his own journey into magic. He has been doing magic for six years and is completely self-taught. The shy magician has found confidence in his magic and performs mostly in the streets wowing onlookers on a daily basis. His dream is to become a professional magician and travel the world.
Confidential
Boy Band. 18 – 19 years old. Grassy Park, Western Cape.
Brent, Herschel, Faeez, Junaid and Niyaaz all met each other in high school and decided to bring their individual talents to form the group. In 2010 Niyaaz made it to the semi-finals of SA's Got Talent as a solo singer before being eliminated from the competition. In 2013 he returned again, with a band called Niyaaz and the Soul Unit Gents but fell out of the competition during the deliberation round. This time around he believes that Confidential has what it takes to go all the way.
Double Blacks
Educational comedians. 21 and 26 years old. Ivory Park, Gauteng.
Mpho and Makunoji's act is educational and generally deals with social issues. They felt like comedy would be the best way to share their message with the public. They desciribe what they do as; "We educate through entertainment. We do edutainment.". They perform in communities, on trains and in correctional facilities. They see themselves as peer educators and want to make a difference in people's lives.
Grace
Musician. 21 years old. Hout Bay, Western Cape.
The 3rd year art student entered SA's Got Talent with a 'nothing to lose' attitude which paid off as she impressed the judges greatly. The quirky singer-songwriter has been performing for seven years and has recently been writing and performing her own original material. She has secured herself slots on major festivals and is building a big fanbase in Cape Town.
Genevieve
Singer. 41 years old. Cape Town, Western Cape.
Genevieve was living her dream as a professional singer and actress but has been out of the entertainment industry for approximately 12 years now. She lost everything and now wants it all back. She was diagnosed with bipolar disorder during her first year at UCT and the medication made her put on 45kg's. She lost all her confidence as a result. She ended up living in a shelter. She has just recently moved out of the shelter, into a backpackers and is slowly picking herself up. People have been encouraging her to enter SA's Got Talent for years but she didn't feel confident enough, now she believes that she is ready. Her dream is to go as far as she can and is excited to be on SA's Got Talent because it is one of the biggest platforms in SA. Genevieve received a golden buzzer to advance to the semi-finals.
Mum-Z
Comedian. 29 years old. Zonnebloem, Western Cape.
Mum-Z began doing stand up comedy in 2007, but was in a car accident in 2008 and had to be in a wheel chair after breaking his tibia and fibula. This ruined his confidence because stand up comedy requires you to 'stand up'. After three years he was finally able to get back on the stage and has since won 3 SAFTA awards. Mum-Z entered SA's Got Talent because he has always considered comedy a secondary career but since losing his father last year and his other brother KB earlier this year, he figures life is too short to keep his talent to himself.
Paint Addiction
Speed painters. 35 and 38 years old. Johannesburg, Gauteng.
Graham and Shane have been working together for 15 years. Professionally they produce wall murals, canvasses, airbrush on vehicles, build props, paint backdrops for the special events industry, and they create speed painting performances. They are versatile artists who use different surfaces, including human skin. They combine illusion in their art. It may look like they are painting an abstract mess but when they reveal what it is to the audience; they will see the order in their chaos.
Gudfellaz
Acapella Group. 20 – 24 years old. North West and Free State.
All four members are from rural areas in North West and Free State and have developd a fanbase in both provinces. They met in Rustenberg while they were at school and have now been together for four years.They write their own music and describe their sound as Afro-pop. They say that there are a lot of acapella groups popping up in SA and as much as they love The Soil, they want to do something different. They believe that their sound is fresh, entertaining and from the heart, and that they have what it takes to go all the way.
Isabella Jane
Ventriloquist. 16 years old. Johannesburg, Gauteng.
Isabella was inspired by the 2007 winner of America's Got Talent to try ventriloquism. She is completely self-taught. She brings something different to her act as she also sings and creates a performance out of her ventriloquism. Her dream is to make people feel something and connect with an audience on an emotional level.
Street Stylers
Dance crew. 19 – 24 years old. Cape Town, Western Cape
Street Stylers are Kyle, Spencer, Shakeel, Brandon, Blake and Jade. Four of the members have been dancing together for the last three years and as of February the Street Stylers crew was completed with the remaining two members.They make a living off performances and corporate events. They also host workshops for dancers who are in high school. Their ultimate dream as a crew is to build their own dance studio and youth centre because they feel that they have a lot to share and that the youth are in desperate need of guidance and a positive environment.
Tapcussionists
Tap dance and percussion group. 24 – 23 years old. Soweto, Gauteng.
Tapcussionists are Mduduze, Bafana, Kagiso and Mompati. The group's sound is a fusion of western tap, traditional dance and percussion. Percussion is the perfect music to go with rhythm (dancing). Their intention was to be original. They wanted to bring something new, something that has never been done before. They believe that originality is what makes an act unique and special. They perform in public events, at weddings, at church and corporate gigs. When they are not performing they are teaching art to students between the ages of 5 and 20.
Amanda
Singer. 23 years old. Johannesburg, Gauteng.
Amanda started singing when she was 9 years old. She grew up in a musical family, both her parents sing and play instruments, so this has been her dream for as long as she can remember. Amanda is ready to go all the way now and believes that SA's Got Talent is the best platform for her because she doesn't have to be anything that she's not. She doesn't have to look certain way or fit into a box to be heard. Currently she performs at casinos and weddings but her dream is represent South Africa and Africa as a professional singer.
DJ Arch Jnr. 
DJ. 3 years old. Alexander, Gauteng.
AJ was given an iPad when he was 9 months old. His parents brought it for him so that he could learn numbers and other educational things. While playing on it he found a DJ'ing program that his father had loaded on it and started playing with it. His father realised that he actually can count beats and the rest is history.They uploaded a video of him playing when he was 2 and it went viral. He now plays at radio stations and kids' parties but he also likes to play for older people. DJ Arch Jnr. was one of the three contestants to receive the golden buzzer.
Mike and Jamal
Dancers. 19 and 29 years old. Johannesburg, Gauteng.
Mike, born in the DRC and Jamal born in Durban, have come together to create their own dance style.They met each other on Instagram. Mike used to like a lot of Jamal's uploads. One day he sent Jamal a message and a few weeks later they met up in a dance studio and started dancing together. Almost a year later, they have been inseparable since.Jamal has brought the hip hop element and Mike has infused it with an Angolan dance style called Kuduro to create their own fusion dance style. Kuduro is a traditional Angolan dance style that Mike learned while he was there. Jamal saw Mike doing it and wanted to try something unique. Based on the public's reaction to this style, they knew that they had to share it with the rest of South Africa and hopefully the rest of the world too.
Will Rayz
Musician and vocalist. 28 years old. Randburg, Gauteng.
Will started singing when he was young but never believed that he could become a musician even though he knew that he had the ability. His greatest accomplishment has been starting the music journey. It took him years to believe in his abilities and it took him a while to find the courage to share the music with strangers.
Hizi-Hizi
Belly dancers. 19 – 30 years old. Johannesburg, Gauteng.
Hizi-Hizi is Cassidy, Tarryn, Julia and Melissa. Tarryn's mother started taking belly dance classes when Tarryn was just 11 years old and Tarryn decided to join in on the fun. Two years later she started performing professionally.Tarryn later started teaching belly dance, the rest of the girls were her students and they formed the group under Tarryn's leadership. Julia started classes 10 years ago, Melissa started 8 years ago, Pavia started 5 years ago, and Cassidy started learning from Tarryn at the age of 4, on and off over the years, and joined the advanced group this year. As a group they perform every weekend; and have represented and won for South Africa internationally.
Team Gravity Core
Street workout. 18 – 40 years old. Alberton, Gauteng.
Team Gravity Core was born out of a need to challenge the way people train.The group of Smith, Siyamukela, Katlego and Nkululeko defies gravity by doing mind blowing stunts.They have been at it for 5 years now and are Members of the World Street Workout and Calisthenics Federation (WSWCF) and the South African Street Workout and Calisthenics Association (SASWCA). Gravity Core has been recognised by WSWCF as the only sports team in S.A to compete in the first and second World Street Workout and Calisthenics Championships that took place in Latvia, Russia in 2013 and 2014 respectively.They were recently recognised on BBC World news and this has sparked interest in the whole world.
The dates for the semi-finals and finale are:
Sunday 18 October: Semi-Final 1
Sunday 26 October: Semi-Final 2
Sunday 1 November: Semi-Final 3
Sunday 8 November: Finale
SA's Got Talent is exclusive to e.tv and e.tv HD every Sunday evening at 6PM. The live results show will air at 7:30PM on the same night. e.tv HD is available on OpenView HD on channel 104.