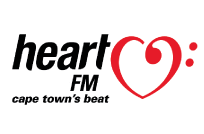 Cape Town, 06 February 2018: The sold out Heart Cape Town Music Festival is set to rock the Mother City on Saturday 10 February 2018 at the iconic Newlands Cricket Stadium. The 12-hour music festival will see more than 20 of South Africa's top talent on stage.
In light of the drought that Cape Town is facing, the entire festival will be water wise and operate outside the municipal grid. This includes ablution facilities which will be brought in, instead of using the existing infrastructure at the stadium. Throughout the day patrons will be reminded that they need to be conscious of water usage. Heart FM is not only committed to leading by example as to being water conscious, but the festival is also running off bio friendly generators to reduce harm to the environment.
Hottest line-up
The line-up includes something for both young and the young at heart, celebrating the best South African and Cape Town talent.
While last season Idol's winner Paxton Fielies agreed to perform at the festival, it was not in consultation with her newly appointed manager, who accepted an invitation to perform at another radio station concert which required exclusivity.
Festival director Denver Apollus explains. "We are not pleased with the outcome as we believe these new artists should be given the exposure across multiple platforms and not be exclusive. We should never let our brands dictate the segregation of our Cape Town artists. We are here to support and Heart FM will do so regardless. We support Paxton and look forward to our partnership with Robin Pieters' show where she will be performing with him on 14th February 2018 at the GrandWest Arena."
Artists taking to the stage: Jimmy Nevis, Youngsta CPT, Marc Alex, Prime Circle, Craig Lucas, AKA, Cassper Nyovest, Sketchy Bongo, Tresor, Dr Victor & The Rasta Rebels, Mango Groove, Die Heuwels Fantasies, Nasty C, Emo Adams, Sasha-Lee Davids, Alistair Izobell, Salome, Kurt Darren, Chad Saaiman, Jarrad Ricketts, Airborne, The Black Ties.