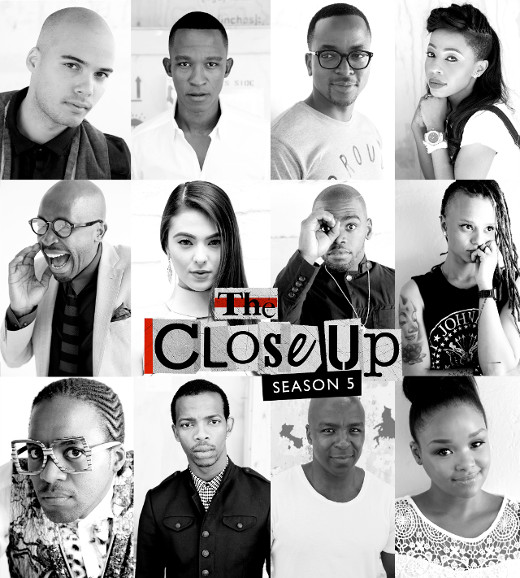 Now in its fifth season, The Close Up makes an exciting return to e.tv featuring celebs such as Singer Kelly Khumalo, entrepreneur DJ Sbu, TV Presenter Katlego Maboe, model Maps Maponyane and rapper iFani. Created by Nicky Greenwall, the new season launches on Thursday 19th November at 6PM.
Mzansi popular entertainment series is back with engaging content, The Close Up digs deep into
the lives of well-known local personalities, their upbringing, their journey  to stardom  and the impact thereof on their lives. Each episode of the series features one local celebrity telling their life story in their own words. The stories are compiled from hours of interview footage and coupled with never-before-seen archive material and images of each celebrity before, during and after their rise-to-fame.
"A lot of the celebrities we have on this season are considered controversial, but their stories will hopefully make people understand why they have behaved the way they have in the past." says Nicky Greenwall, Executive Producer.
Musicians who have opened up about their lives in the series include singer-songwriter Jimmy Nevis, rapper and musician Kabelo Mabelane and singer and producer Zakes Bantwini.
"Musicians express themselves through their music." says Nicky. "But, even so – musicians can still be misunderstood. It's my hope that these interviews will shed light on the real people behind the personalities audiences have come to believe they know so well."
Among the other celebrities interviewed in this season includes actor Siv Ngesi, former child star Sade Gilliberti, DJ Mo Flava, and TV presenters Nonhle Thema and Lalla Hirayama.
"We are thrilled to be showcasing yet another in-depth, tell season of The Close Up.Each personality has a unique journey and this show allows viewers a full view into the life of some of the most popular entertainers South Africa has on offer. It's going to be edgy and revealing new season, well done to Nicky Greenwall and her team for this amazing fresh installment." Says Monde Twala, e.tv Managing Director.
Season 5 Synopses
Kelly Khumalo
Thursday, 19th November 2015
Kelly Khumalo opens up about her troubled friendships to her controversial relationships and what it's like to be cast as the villain.
Dj Sbu
Thursday, 26th November 2015
Self-made entertainer and entrepreneur Dj Sbu embodies the phrase "If at first you don't succeed, try, try again.
Katlego Maboe
Thursday, 3rd December 2015
SAFTA winning television presenter Katlego Maboe opens about his future plans and proves that there is more to this former Afrikaans singer.
Lalla Hirayama
Thursday, 10th December 2015
Japanese born, South African bred television presenter Lalla Hirayama has been a regular on local small screens for more than a decade. She reveals some uncomfortable truths about her childhood, her stint as a professional dancer and what it's really like to live in the glare of the media spotlight.
Kabelo Mabalane
Thursday, 17th December 2015
Kwaito star Kabelo Mabalane opens up the highs and lows of his career in entertainment. From his battles with drug addiction to the birth of his first child – Kabelo's story reveals the softer side of the man known to his fans as "Bouga Luv
Ifani
Thursday, 24th December 2015
Multi-award-winning musician iFani shares his journey-so-far from childhood poverty to his adult battles with depression. He finally reveals the real story behind his music and his unusual alter ego.
Nonhle Thema
Thursday, 31st December 2015
Controversial television personality Nonhle Thema shares her early years as a teenage beauty queen to her infamous twitter meltdown – her story is a cautionary tale for anyone who's harboured a desire for fame.
Jimmy Nevis
Thursday, 07th  January 2016
Award winning singer-songwriter Matthew Le Roux – better known to his fans as Jimmy Nevis reveals how he has become one of the biggest pop stars in the country.
Zakes Bantwini
Thursday, 14th January 2016
Musician and social entrepreneur Zakes Bantwini opens up about his difficult past. The story tracks his life as a professional dancer on the stages of Europe up to his current role as a Music Executive and demonstrates why he has become one of the most influential men in South African entertainment.
Sade Gilliberti
Thursday, 21st January 2016
Former child star and television personality Sade Gilliberti has been on local small screen for more than two thirds of her life. she discusses her sexuality, her battles with depression, and her complicated relationship with her absent mother.
DJ Mo Flava
Thursday, 28th January 2016
As the grandson of a prominent Soweto businessman, and nephew of a former Robben Island inmate Mo Flava has a unique perspective on growing up in South Africa.
Maps Maponyane
Thursday, 4th February 2016
In a relatively short space of time Model and Fashionista Maps Maponyane has become one of the most influential men in South African Fashion and Entertainment. He discusses his biggest life challenges so including his struggle to overcome a severe speech impediment.
Siv Ngesi
Thursday, 11th February 2016
Born in the townships and raised in the suburbs of Cape Town – Actor, Comedian and Motivational Speaker Sivuyile Ngesi has made a career out of his unique perspective on race relations in South Africa. In this week's episode we discovers how he became the confident performer he is today – and reveals how a teenage acne condition changed the course of his career.
About Greenwall Productions
Greenwall Productions was founded by writer, producer and entertainment journalist Nicky Greenwall in April 2009. The company has produced a number of television shows including The Showbiz Report, The Style Report, The Close Up, Inside Art and the celebrity talk-show ScreenTime With Nicky Greenwall.
About Nicky Greenwall
As an entertainment journalist Nicky has reported live from The Academy Awards, The Cannes Film Festival, The Venice Film Festival, and Nelson Mandela's 46664 concerts. She has conducted one-on-one interviews with some of the biggest names in showbiz including; Johnny Depp, Leonardo DiCaprio, Charlize Theron, Angelina Jolie, P Diddy, Sir Anthony Hopkins and Jim Carrey to name a few.
Catch The Close Up on Thursday, 19 November 2015 at 6PM on e.tv and on eHD channel (channel 104) on OpenView HD. OpenView HD is available at leading retail stores.