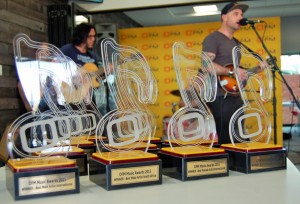 The winners of the first ever OFM Music Awards were announced on Tuesday 29 September 2015 during a special two-hour radio show complimented by a video stream on www.ofm.co.za. The show was hosted by Breakfast Special presenter André Kunz and afternoon drive presenter Martin van der Merwe, with a live performance by one of South Africa's favourite rock bands, The Parlotones and central South African singing sensation Brenden Peyper.
In the run-up to the awards show, listeners had a chance to vote for their favourite artists, albums and songs in national and international categories.
In the international categories, American singer-songwriter Taylor Swift won Album of the Year for her fifth studio album, 1989. The album was released in October 2014 and the title was inspired by the pop-music scene of the 1980s, particularly Swift's birth year. Two Brits, Ellie Goulding and Ed Sheeran walked away with the Best Female Artist and Best Male Artist awards. Listeners chose the American pop rock band Maroon 5 as Best International Group. Winning Song of the Year, was Rachel Platten with "Fight Song". The song topped the charts in the UK. It also proved to be the most popular song in Central South Africa!
In the national categories, Juanita du Plessis' album Toe Staan die Wêreld Stil, won Album of the Year. It was released in May 2015 and has already sold more than 100 000 copies. Best Female Artist was won by Riana Nel and the award for Best Male Artist was won Bobby van Jaarsveld. Pop boy band and veterans of the South African music scene Eden was chosen as the Best South African Group. Finally, listeners chose Karen Zoid and Francois van Coke's "Toe Vind Ek Jou" as the Song of the Year. Blending the voices and talents of arguably the king and queen of South African rock music, the song had more then 50 000 views on YouTube one day after it was published for the first time.
Says Nick Efstathiou, OFM General Manager: "The first OFM Music Awards was an ambitious project but turned into a rewarding success and we are very satisfied by the levels of engagement we received from our listeners. We received close to 36 000 votes on www.ofm.co.za over a 19 day voting period. We would like to congratulate all the nominees and winners of an OFM Music Award."
Relive the OFM Music Awards and watch the show on www.ofm.co.za.