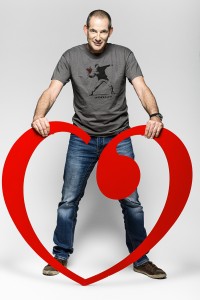 Cape Town, 5th May 2015: Nick Feinberg's outspoken nature may have landed him in some hot water a couple of times over the last 17 years, but his personality and wit has won over the hearts of listeners making him one of the most loved sport presenters in Cape Town.
Nick's almost two-decade long run spanned across every day time show on the station. For the past 17 years he's been an abrasive, cynical and highly controversial figure on Cape Town radio. In the process, Nick has become one of the most recognised names in the industry – garnering numerous awards, including three nods as the Western Cape Electronic Sports Journalist of the Year. He also came close to setting a record for the most appearances as the defendant in front of radio's ombudsman, the BCCSA, although he has notably seen all of these complaints dismissed without censure.
On Friday 8 May 2015, Feinberg will be presenting his last show as the sports anchor on #Drive326, the afternoon drive show hosted by Suga. He'll be leaving on a high, having been an integral part of the on-air team that has enjoyed the largest afternoon audience in the metropole for the past two years, and he's happy that he'll be moving on to a positive new role for the station.
Asked about that future, Nick's typically flamboyant response was that, "I'm to be reborn! It's an almost-middle aged metamorphosis; bursting out of a 90 kilo pupa as the all-new uncynical, grumpless, all-conquering, positive and productive Creative Director of Heart FM's internal creative advertising unit." While he focuses on this new role, he will still have a presence on air hosting a weekly football slot every Wednesday afternoon at 15h30.
Over the next few weeks, Heart FM will be trying out some new talent in this space but is not in a hurry to fill the big shoes of the witty Chelsea-mad football fan.