Cape Town, Thursday 29 October 2015: This holiday season, Heart FM, Game and the non-profit organisation Newkidz on The Block will be writing a story of joy for underprivileged children of the Western Cape. In the lead up to Christmas the organisations will be collecting toys as part of the Game Toy Story campaign for children in need.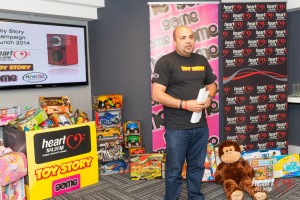 This year marks the 4th year Heart FM is involved with the campaign of which the aim is to collect approximately 6 000 toys and distribute them to children at hospitals, orphanages, safe houses and other child protection institutions. The majority of these facilities are government funded and struggle to make ends meet. The toys distributed are often a first for many of these children and play a crucial part in their development.
The recipients of the toys are vetted by Newkidz on the Block which helps in establishing loving homes for orphans, vulnerable and destitute children. Founder of Newkidz Hilda De Beer says there is nothing better than seeing what a difference a toy makes to a child. "To see the eyes of a child light up when they receive a new toy is a special moment. To see the whole face of a child, who doesn't own anything new light up when they receive a new toy is priceless."
You can make a difference by purchasing or placing a new toy in the Toy Story drop boxes in all *participating Game stores from 12 October 2015. Game Marketing and Customer Director Mark Tuner says the company is delighted to be part of the campaign for the 4th consecutive year. "The Toy Story campaign reminds us that we all have an all-important duty to play in ensuring the well-being of disadvantaged children."
For the 2rd year running Heart FM DJ Tyrone Paulsen will be the Brand Ambassador for the campaign. Heart FM will create awareness around campaign by broadcasting live from a number of GAME stores to drive listeners and store visitors to help make the wishes of children in need come true.
The Heart Top 40 with Paul Playdon will take place from 10:00 to 14:00 at the following stores:
Canal Walk – 31st October 2015
N1 City – 21 November 2015
Bayside – 28 November 2015
Tygervalley – 5 December 2015
Kenilworth – 12 December 2015
A Cavalcade will make its way to the Red Cross Children's hospital on the 17th of December 2015 which culminates in a Christmas party with Heart FM DJ's and various fun activities for the children who find themselves in hospital during the holiday season.
If you would like to contribute to this worthy cause, Toy Story drop boxes can be found at the following stores:
GAME Bayside Mall Corner of West Coast Rd & Blaauwberg Rd, Tableview
GAME Canal Walk Century Boulevard, Century City
GAME Cape Gate Corner Okavango Rd & de Bron Rd, Brackenfell
GAME Grand Central Plein & Darling Str, Cape Town
GAME Kenilworth Kenilworth Centre, Doncaster Road, Kenilworth
GAME Mitchell's Plain Promenade Centre, Cnr AZ Berman Dr & Morgenster Rd, Mitchell's Plain
GAME N1 City Mall Louwtjie Rothman Street, Goodwood
GAME Paarl 21 Fabriek street, Paarl
GAME Parow Parow Shopping Centre, Cnr. Voortrekker Rd & De La Rey St, Parow
GAME Somerset Mall Corner Highway & R44, Somerset West
GAME Stellenbosch Eikestad Mall 43 Andringa Street Stellenbosch
GAME Tygervalley Tygervalley Centre, Bill Bezuidenhout Avenue, Tyger Valley
GAME Vredenburg Weskus Mall, 110 Saldanha Road, Witteklip, Vredenburg
GAME Worcester 13 Mountain Mill Drive, Worcester
GAME Zevenwacht Zevenwacht Mall Cnr Polkadraai & Van Riebeeck St, Kuils River
****The name "Toy Story" is the intellectual property of Disney Pixar, and is used under licence.