The Endler Concert Series presents the Brandenburg String Trio on Sunday 23 April at 16h30 in the Endler Hall, Stellenbosch.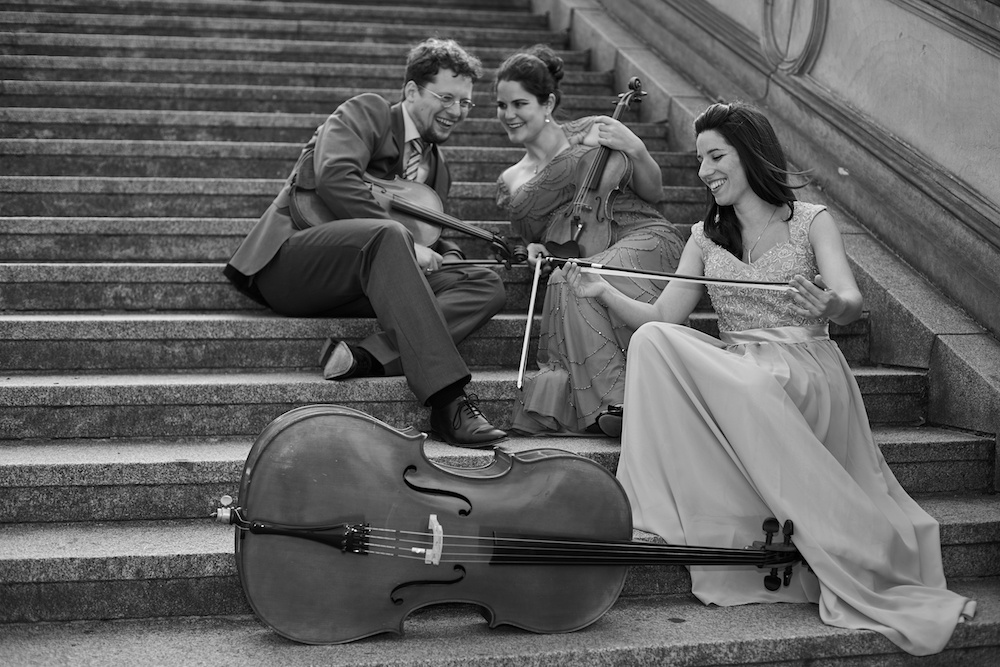 Founded in 2014, the Brandenburg String Trio comprises South African violinist Avigail Bushakevitz, German violist Ernst-Martin Schmidt and Spanish cellist Andrea Casarrubios.
No stranger to South African audiences, violinist Avigail Bushakevitz has performed as soloist with all the major orchestras in the country and has won multiple national and international competitions including first prizes at the UNISA National Strings Competition and the UNO Competition (Jerusalem). In 2016 Avigail was named South African Standard Bank Young Artist of the Year.
Violist Ernst-Martin was born in East Berlin where he first studied violin at the C.P.E. Bach specialist music school. He completed his bachelors and master's degrees at the Musik Hochschule Hanns Eisler (Berlin). During the final two years of studies he commenced two years' playing in the Berlin Philharmonic Orchestra and in 2005 he joined the violas of the Konzerthaus Orchestra Berlin.
Cellist Andrea studied at the Peabody Institute (Baltimore) and at the University of Southern California. After completing her master's, she went on to work with Ensemble ACJW at Carnegie Hall (New York). She has won many awards and is a first prize winner of the American Fine Arts Festival International Concerto Competition 2012 and the SOR Solo String Concerto Competition 2009.
The programme includes works by Purcell, Schubert, Françaix, Klein and Mozart.
Be sure not to miss this feast of young talent and outstanding music.
Tickets for R140 (regular) and R100 (students and pensioners) are available now through Computicket and at the door.
Afrikaans: Brandenburg Stryktrio
Die Brandenburg Stryktrio tree op Sondag 23 April om 16h30 in die Endlersaal, Stellenbosch op as deel van die Endler Konsertreeks.
Die Trio is in 2014 gestig, en bestaan uit die Suid-Afrikaanse violis Avigail Bushakevitz, die Duitse altviolis Ernst-Martin Schmidt en die Spaanse tjellis Andrea Casarrubios.
Avigail Bushakevitz is 'n bekende in Suid-Afrika, en het met die meeste binnelandse orkeste opgetree, en en etlike nasionale en internasionale pryse verower, insluitende eerste pryse by die UNISA Nasionale Strykerskompetisie en die UNO-Kompetisie (Jerusalem). In 2016 is Avigail aangewys as die Suid-Afrikaanse Standard Bank Jong Kunstenaar van die jaar.
Die altviolis Ernst-Martin Schmidt is 'n gebore Oos-Berlyner en het sy instrument aan die C.P.E. Bach musiekskool bestudeer. Sy Baccalaureus- en meestersgrade het hy aan die Musikhochschule Hanns Eisler in Berlyn verwerf. Gedurende die laaste twee studiejare was hy deel van die Berlynse Filharmonie, en in 2005 lid geword van die altvioolseksie van die Berlynse Konzerthaus-orkes.
Tjellis Andrea was 'n student aan die Peabody Instituut van Baltimore, en die Universiteit van Suid-Kalifornië. Na voltooiing van haar studies het sy ondervinding opgedoen by die Ensemble ACJW aan die Carnegie Hall in New York. Sy het verskeie toekennings ontvang, en is 'n eerstepryswenner van die Amerikaanse Fine Arts Festival Internasionale Concerto-kompetisie in 2012en die SOR Solostrykerskompetisi in 2009.
Die program sluit werke in van Purcell, Schubert, Françaix, Klein en Mozart.
Kaartjies is nou beskikbaar by Computicket en by die deur teen R100 (studente en pensioenarisse) en R140 by die deur.